Delphi Community High School


Classes of 1870 - 2019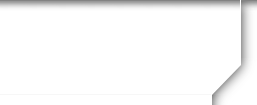 In Memory
Bill Pearson - Class Of 1962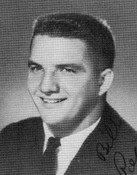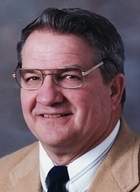 DELPHI -- William Joseph Pearson, 67, of Delphi, died at 9:25 p.m. Thursday, July 21, 2011, at Indiana University Health Arnett Hospital.
Born Dec. 16, 1943, he was the son of the late Robert E. Pearson and Ethel Dubes Pearson. He graduated from Delphi High School in 1962 and studied heavy equipment operations after high school and worked for a time in that industry.
In 1964, he married Carolyn K. White, and she survives.
He joined the Indiana National Guard in high school and served his active duty at Fort Dix, N.J. Mr. Pearson farmed with his father-in-law prior to purchasing interest in Jackson-Lee in 1972, later becoming Jackson-Lee-Pearson, Inc. He eventually became sole owner; his son later bought into the business. A private pilot, he picked up parts for overnight service before overnight delivery was available. He had a grain and livestock operation and hog operation. Working with Sen. Katie Wolf, he helped eradicate pseudo-rabies in Carroll County.
Mr. Pearson served on the board of directors of the Yeoman Telephone Co. He was an inductee into the Carroll County Wall of Fame in 2000 for support of agriculture and his community.
He was a member since childhood of Delphi Christian Church. He was a former 4-H leader and supporter of 4-H and FFA programs in the county. He was a member of IOOF lodge and the Wabash & Erie Canal Association and a former member of the Indiana Implement Dealers Association and Paul Harris Fellow of the Flora Rotary Club, where he was actively involved in the Rotary Youth Exchange program. He enjoyed the McGuire Group and his customers and friends.
Surviving with his wife are two sons, Patrick of Hollywood, Fla., and Jason (wife: Michelle) of rural Delphi; two nieces, Tina Sandefur and Michelle Sandefur Davis (husband: Jeff), who made their home with the family after the death of their mother; and a brother, Wayne Robert Pearson (wife: Jan) of Wolcott and Florida.
Also surviving are grandchildren, Tanner and Cole Pearson of rural Delphi and Jake and Alex Davis of Lafayette. Bill continues to give as a tissue and bone donor to honor his memory. Memorial contributions to help the community may be made to the Carroll County Community Foundation.
The family will receive friends at Tri Green Tractor of Flora (formerly Jackson-Lee-Pearson, Inc.) on Sunday, July 24th from 4-8 p.m. A memorial service will be held at 11 a.m. Tuesday, July 26th, 2011, in Delphi at the Wabash & Erie Canal Interpretive Center. Reinke Funeral Home is assisting the family with arrangements.