Delphi Community High School


Classes of 1870 - 2021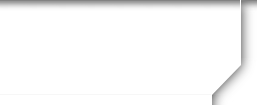 Reunion Pictures
Class of 1955 - 65 Reunion, July 16, 2001
Front Row: Jack Brewer, Thelma Douglas Rodgers, Susan Roach Mann-Hitchcoc, Helen Elston Spence, Mary Elston Blount Second Row: Judy Crone Maxwell, Duane Johnson, Francie Redmon Burton, Dean Burton, Carol Flora, Wayne Mulliin Third Row: George Hanaway, Bill Parr, John Furst, Bill Calvert, Tricha Maggart Crow, Barb Smith Erickson.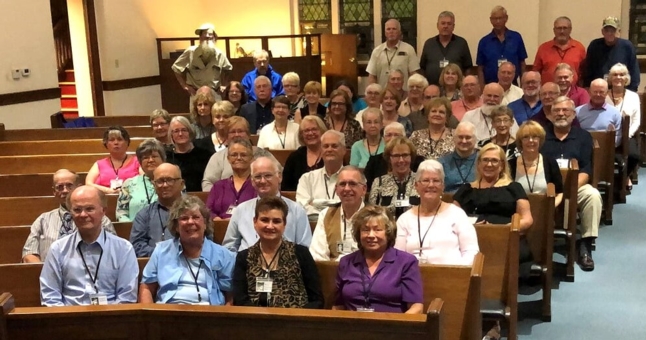 Class of '69 - 50th Reunion
Front row - Wayne Holmes, Diana Cable Whitworth, Nora McCarthy Creed McClasky, Anita Geiser Whitlock;
Row 2 - Allen White, Larry Stigers, Bob Adcock, Jeff Shanks, Mary Ellen Scott Grubbs;
Row 3 - Carolyn Martin Maxwell, Bonnie Risley Westfall, Dallas Eikenberry, Barb Robbins Small, Gloria Blohm Maxwell;
Row 4 - Pat Buschman Rhoads, Ellen Childers Williams, Lynn Yates, Hicks, Paula Been Foster, Mary Jo Meek Redmon, Leah Eikenberry, Carol Cunningham Bertrand;
Row 5 - Marilyn Hancook Beeler, Rita Dittman Zawisza, Carmen Miller Slavens, Debra Bowman Whiteman, Tara Hathaway Garrison, Wayne Garrison, Carl Snipes, Darol Packard, * Roxanna Ragan Garbison is hidden by Paula Foster in front of her*
Can't tell which row - Debbie Rosenbarger Hayden, Sue Davis Hoard, Jan Grantham Israel, Brian Appleton;
Here's where my depth perception is giving me trouble seeing which row is which.
Row 6, 7 & 8 - Sandy Orr, the top of Terry Bradshaw's head is directly behind Sandy (I think), Daniel Boone standing in back behind Terry, Connie Riley Rodenbarger, Dennis Oberkrom, Jeff Schnepp (in blue) behind Dennis, Esther Baer Hufford, Diana Myers Hershberger, Linda Hayden Taff (partially hidden), Carol Coble Bogart, Jack Harford, Kevin Goyer, Patsy Kelly Hasser, Richard Lybrook, Will (Bill) Weaver, Mike Pearson, Coy Riley, Barry Emerson, Gaye Groninger Ford;
Standing - Terry Martin, Rex Wilson, Tom Robinson, Gary Wertz, and Don Beattie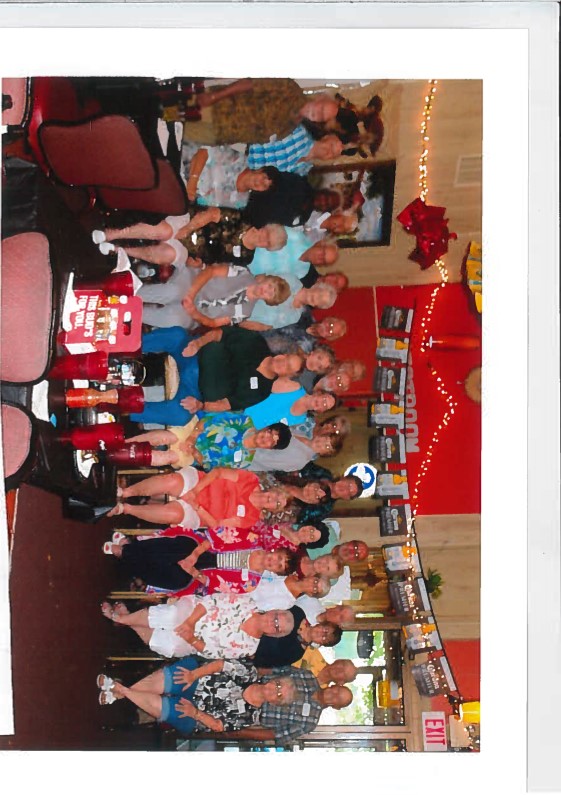 Class of 1964 – 55th Reunion
Sitting: Diane Ward Justice, Patsy Harner Delaney, Shirley Best Goyer, Bob Brooks, Marge Humbarger Coil, Mary Hawn Dornette, Pam Friday Thomas, Pam England Hafey, Karen Ottinger Stewart.
Standing: Bill Janz, Jerry Trapp, Charlie Davis, Gerry Shepard, Butch Benefield, Jim Maxwell, Joyce Page Rider, Mike Wilcox, Ginny Davis Freeman, Fred Laber, Leton Sines, Donna Medley Watts, Leanne Walters Aldrich, Diane Mullin Schanbel, Bill High, Sarah Sheets Berry, Mary Burkhalter DeFord, Jim Justice, Kay Guckien Trent, Cecilia Griffey Wilhelm, Art Politz, Mary Anne Smith Hoffman, Bo Bradshaw, Bill Freeman.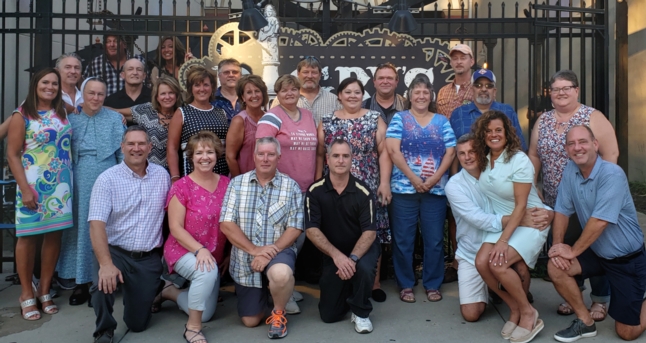 Class of 84 - 35th Reunion
Kneeling: Jon Zink, Kathy Powlen Zink, Drew Tyner, Jon Snyder, David Kennedy, Suzi Alvarez Kennedy, Dave Hawn. Behind: Terri Roberson Hildebrandt, James Heffley, LouAnna Miller Hufford, Doug Parks, Brenda George Weaver, Kim Myers Cripe, Jeff Humbarger, Alisa Cornell Bieghler, Sandy Fogarsi, Dwayne Morrow, Peggy Roberson King, Boyd Penn, Stella Rose Moore, Evan Houston, Chuck Shockley, Anne Biederwolf King. Photobombing through the fence are two spouses who went to Twin Lakes wishing they had been Oracles.
-----------------------------------------------------------------------------------------------------------------------------------------------------------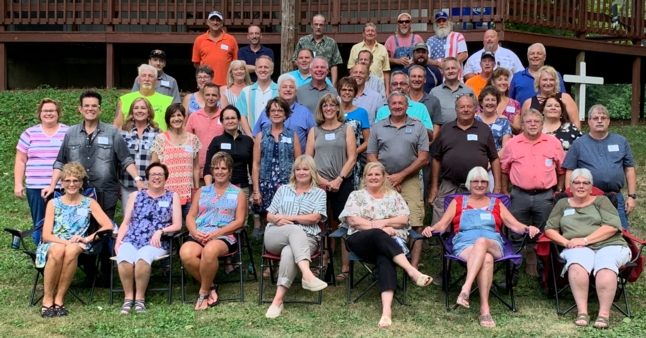 Class of '79 - 40th Year Reunion
Bottom L-R: Penny Selleck Leinberger, Susan Smith Maxwell, Tina Brown Garrison, Sheri Rishel Eaton, Missy Marris Schwartz, Denna Cripe Baker, Dora Dyer Trippett 2nd Row: Nancy Beale Gurtner, Ray Wilson, Anne Nelson Durrant, Keltie Sullivan Dominia, Peggy Walters Dale, Jane Spitznagle Replogle, Brian Burton, Stan Long, Ken Lavy, Robin Oliver 3rd Row: Lisa (Gigi) Patty Frost, Randy Lake, Steven Johns, Denise Willy Craig, Patrick Leahey, Connie Cree Lohrman, Corrina (Sue) Heise Corrilla 4th Row: Johnny Frost, Nancy Hollaway Walter, Mark Hoffman, John Thompson, Marty Strasser, JD Young, Celena Crume Doctor, Tina Penn Geier 5th Row: Mark Wilson, Lisa Goad Brooking, Jim Garrison, Gary Hicks, Marty Oliphant, Roger Replogle, Calvin Hummel, Charles (Chuck) Petry 6th Row: Gary McLemore, Bruce Koch, Danny Rhodes, Dick Langston, Jeff Seramur, Charles (Chuck) Veach, Wayne Robinson
---------------------------------------------------------------------------------------------------------------------------------------------------------------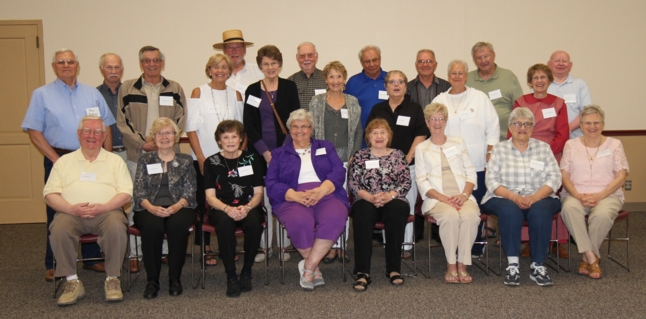 Class of 1958 - 60th Reunion - September 8, 2018 - Canal Community Center
Front L-R: Tom Porter, Virginia Fisher Berry, Janice Brewer Girton, Pat Coghill Duff, Eleanor Wilken Stewart, Eileen Quinn Sommers, Suzanne Spitler Hathaway, Ettola Armstrong
Back L-R Ron Rodkey, David Garrigus,Tom Merrill, Mary Lou Parks Woods, Dan McCain, Mary Jane Ginn Hunter, Gale Cripe, Mancy Simons Fowler, Dean Slavens, Pat Toole Porter, David Smith, Betty Martin, Wayne Wentzel, Sue Ann Sieber Cornell, Ron Cripe
------------------------------------------------------------------------------------------------------------------------------------------------------------
65th Class of 1953 Reunion held August 15, 2018 - Held at the Wabash Interpretative Center
Standing: Joe Weaver, George Tharp, Tom Benner, Glen Myers, Bonnie (Jackson) Richardson, Connie (Calhoun) Boatright
Seated: Barbra (Kenworthy) Adams, Claudine Martin, Bob Duff, Joe Hildebrandt
----------------------------------------------------------------------------------------------------------------------------------------------------------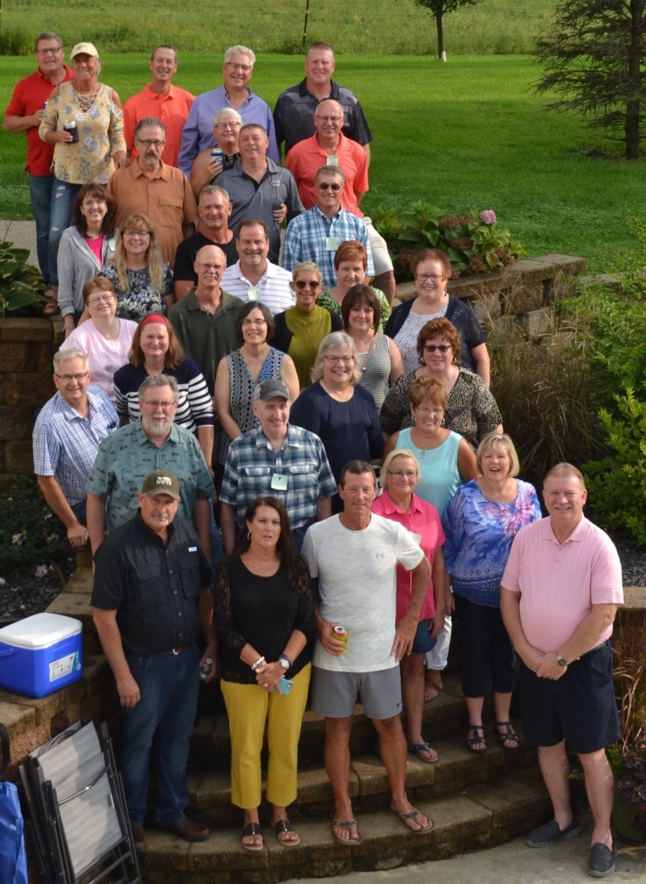 40th Class of 1978 Reunion held August 25, 2018 - Held at Jerry & Peg Minnicus' Home
ROW 8: (L to R) Rock Crawford, Kim (Alberts) Isley, Steve Burge, Skip Dale, Randy German
ROW 7: Mark Schock, Deb (Reynolds) Alpha, Bill Vianco, Mike Lohrman
ROW 6: Joyce (Hughhes) Ehlering, Jerry Minnicus, Pat Peters
ROW 5: Teresa (Combs) Houser, Jon Johnson, Angela Hawn
ROW 4: Teresa (Houghbagh) Thomlinson, Dean Wood, Kimbra (Zolper) Brown, Cathy (Heron) Zook
ROW 3: David Scott, Penny (Rockhill) Kilner, Ramona (Seese) Thornburg, Mary Beth Johns
ROW 2: Brad McKay, Ron Cripe, Navella (Miller) Crumpacker, Cindy (Holloway) Muse, Brenda Strasser,
ROW 1: Dan Pennington, Peg (Hildebrandt) Minnicus, Don Dickison, Mary (Whitfeild) Stilson, Kim (Jenkins) Minnicus, Doug Collins
Not in photo: Pat George, Beth Bradshaw, Eunice Todd Wagner, Alan Studivant
Class of 1988 - 30th Reunion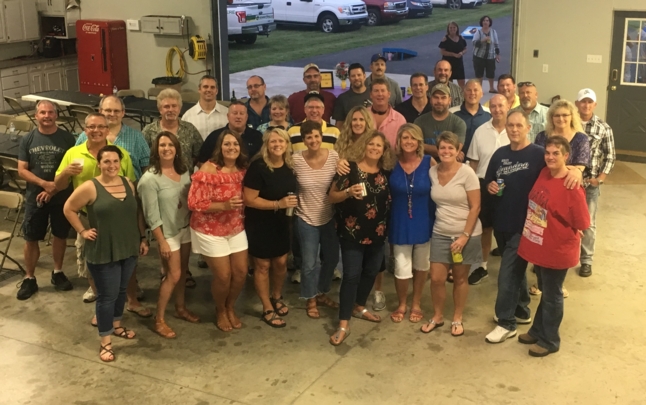 Kim (Daly) Hintz, Christine (DeVos) Richter, Karlene (Hoffman) Reneau, Patti (Draper) Hudelson, Melissa (Berkshire) Martin, Shonda (Black) Royal, Tammy (Fehrholz) Anderson, Julie (Stewart) Price, Jeffrey Bayless, Resa (Jones) Bayless
Darrin Brown, Jason Pearson, Robert Wilson, Allan Fehrholz, Ashley Tyner, Sharon (Gingrich) Milburn, Travis Dillman, Angie Anderson, Doug Carroll, Mike Manahan, Troy Clawson, Shelly (Beall) Bowlin,
Mark Bradshaw, Dustin Houser, Mike Walters, Rich Gardiner, Jeff Jacot, Craig Powlen, Jay Rodenbarger, Trent Richter, Doug Mears, Jeff Wise, Darin McCurdy
Class of 1949 - 65th Reunion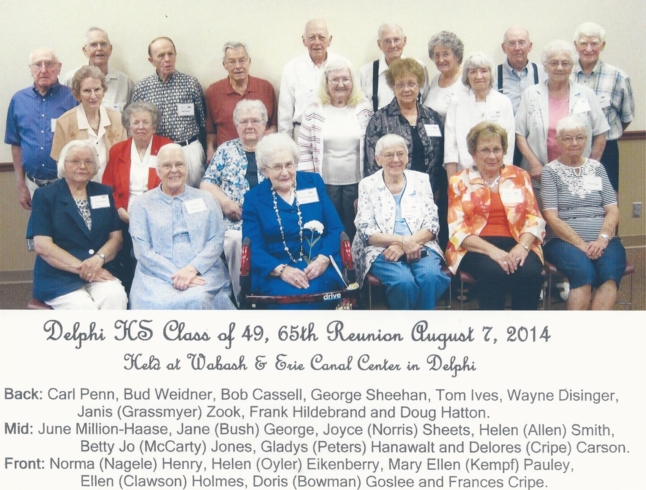 Class of 1967 - 50th Reunion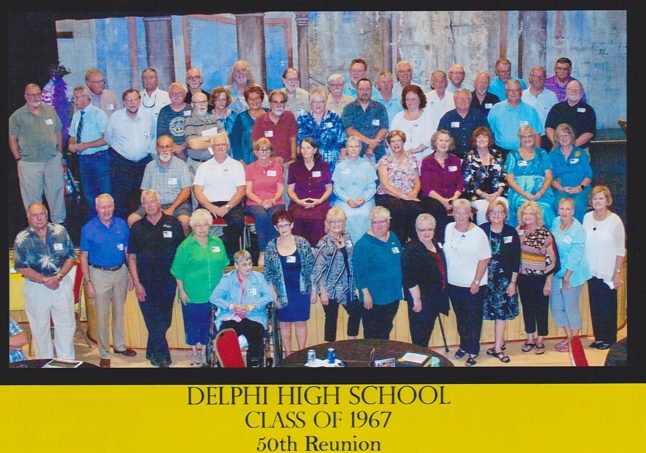 FRONT ROW LEFT TO RIGHT: Steve Smith (Big Smitty), Dix Weaver, Darrell Bailey, Penny Wertz Richards, Diana Bolinger Kauffman, Diane Nelson Reef, Nadine Ashba Kingsley, Marge Riley Potts, Kay McCarty Smith, Linda Sorenson Smith, Ellen Snyder Bruno, Mary Guckien, Saron Brown Everett, Claudann Brooks Burks.
SECOND ROW LEFT TO RIGHT: Ron Scowden, Gene Benefiel, Rose Turner Benefiel, Anita Cable Brubaker, Shirley Wagoner Fisher, Pam Fossnock Smith, Mary Eileen Johnson Flower, Marsha Hill Crowe, Kathy Spear Dep, Joyce Pearson Ehrlich.
THIRD ROW LEFT TO RIGHT: Jerry Henderson, Jesse McCarty, Mark Smith, John Riley, Bill Emerson, Connie Myers Hathaway, Marsha Kirkpatrick Pitty, Dan Sterrett, Mary Ann Coghill Best, Bill Kempf, Joyce Medley Furr, Tom Hedderich, Loran Lantz, Steve Smith (Little Smitty).
FOURTH ROW LEFT TO RIGHT: Jim Weddell, Tie Ebrite, Rob Baker, Bob Tolen, Jeff Ross, Dale Pettiner, Gerald Landes, Chuck Everett, Clayton Flora, Charles Clauser, Ron Israel, Phil Thomas, Mike Emmons, Steve Brehmer, George Collins.
Class of 1962 - 55th Reunion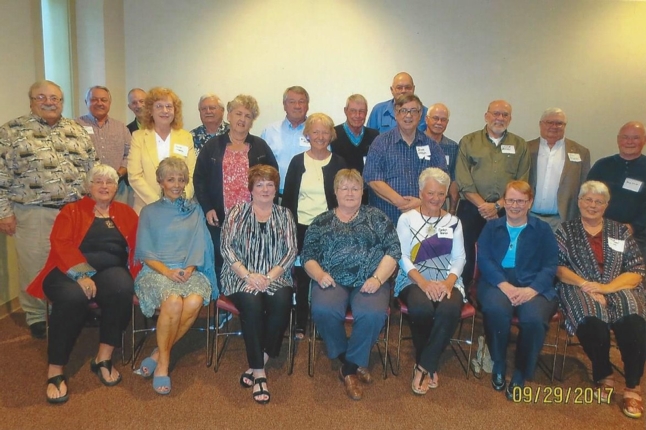 Front: Georgianna Bradshaw Southwick, Babs Bell Hajdusiewicz, Mary Jane Fisher Swartz, Barbara Adams Betz, Carolyn White Pearson, Bonnie Maxwell, Marcia Mason Wilson Middle: Skip McMurray, Sherry Wagoner, Marge Liebert Franklin, Pat Thomson Calhoun, Dick Welch, Wayne Bowen, John Gingrich, Doug Cripe Back: Even Berninger, John Neff, Victor Brown, Mick Merrell, Dick Skiles, Jack Cohee, John Beale
Class of 1982 - 35th Reunion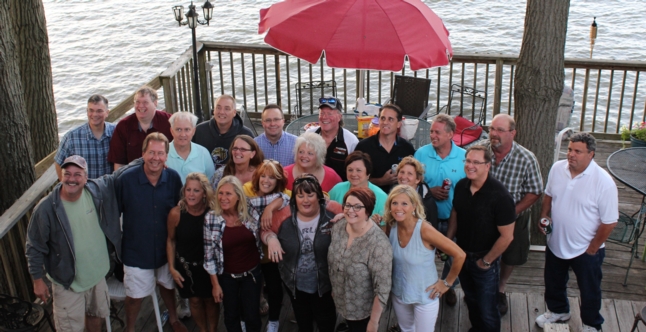 Front Row (L to R): Jack Gish, Garry Fuller, Holly Kendall, Kim Conner, Debra Schafer Mayhill, Deb Ballard Frier, Amy Brosman Livingston, Tonya Garrison Lake
Middle Row (L to R): Jeff Scott, Michelle Hartman Brown, Christy Flora Shock, Robin Haynes Jones, Janet Draper, Tony Burns
Back Row (L to R): Jeff Tyner, Patrick Shoemaker, Dale Lanham, Ron (Warren) Sink, Kirk Burge, Dennis Hall, Tim Young, Eric Duff, Rob Stasser
Class of 1961 - 55th Reunion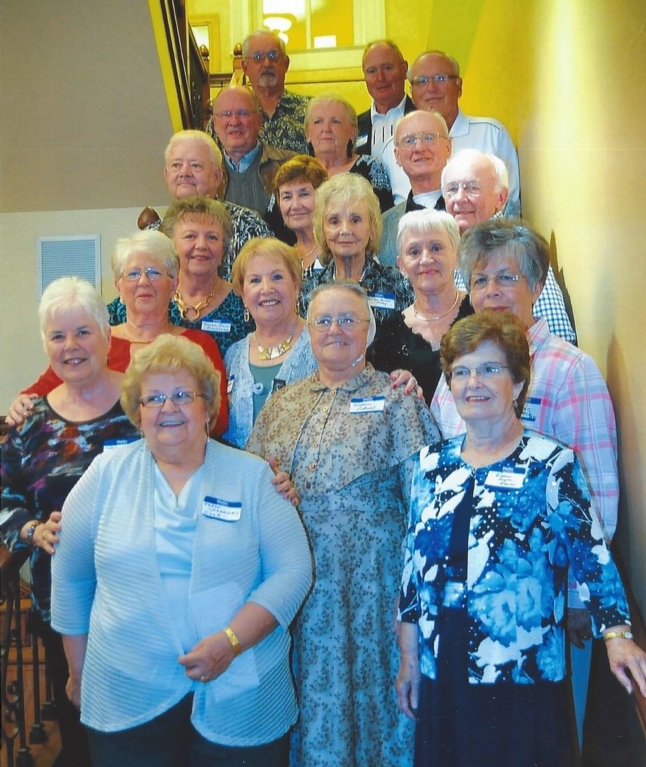 Class of 1966 - 50th Reunion August 27, 2016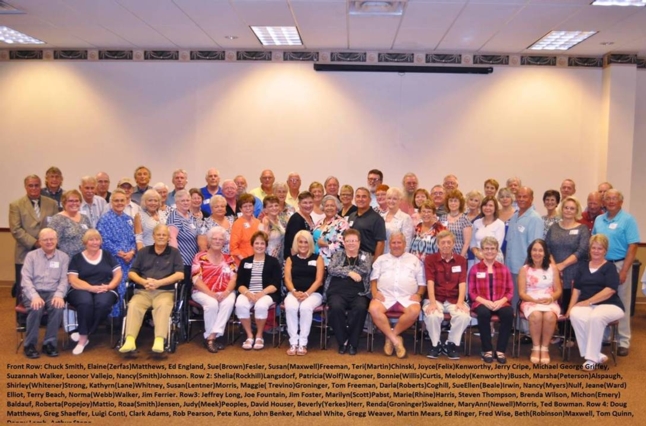 Bottom two names: Danny Lamb, Arthur Stone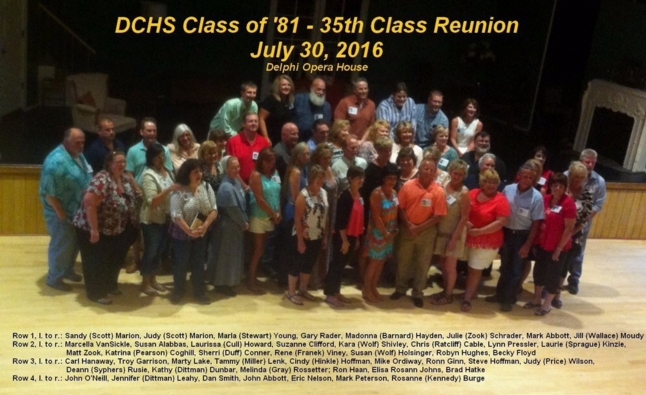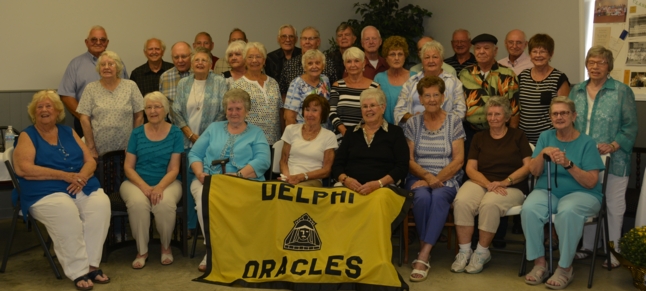 DHS Class of 1956 The Delphi High School Class of 1956 held its 60-year reunion Aug. 13 at the home of Carolyn and Jerry Wagnerwith 33 classmates and 17 spouses and guests in attendance. Attending were (l-r): Front - Carolyn (Talbert) Wagner, Evelyn (Brown) Calvert, Esther (Myers) Faroute, Lois (Young) Dusthimer, Deanna (Whiteman) Pearson, Justine (Hackett) Cunningham,Dorothy Elston and Nancy (Ashba) Saulmon. Middle - Patty (Crowder) Measles, Dr. Ed Wagoner, Judy (Orr) Wilcox, Linda (Coomey) McGraw, Mickey (Lyons) White, Jean (Draper) Sommers, Carol (Underhill) Ward, Betty (Brown) Beale, Betty (Cole) Sprague, Hubert Schmitter, Jim Gates, Barb (Schock) Jones and Dolorita (Vianco) Gaunt. Back - Kim Black, Toby Cedarquist, Phil Girton, Charles Lybrook, Guy Selleck, Leonard Wentzel, Don Keller, Paul LaPrad, Ron White and Chuck Elliot.
---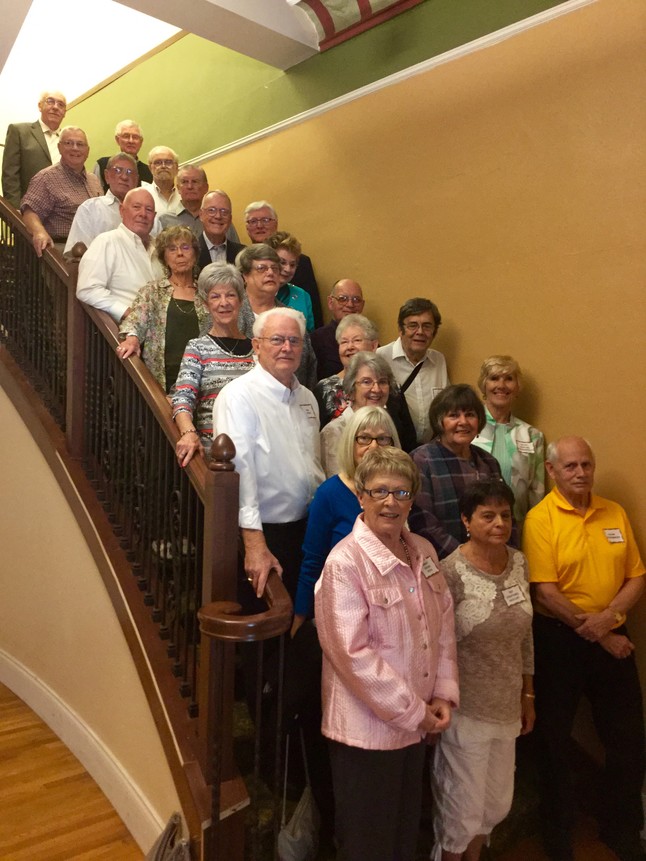 Class of '60 - 55th Reunion..Row 1: Sandra (Cook) Roth, Pat (Hufford) Ratcliff, Frank Lachenmaier. Row 2: Diane (Maxwell) Heckert, Barbara (Martin) Rogers. Row 3: Robert Myers, Jean Ann (Small) Crowder, Kathy (Kerlin) Junkersfeld. Row 4: Judy (Huffman) Schock, Janice (Matthews) Burkhart, Don Larimore. Row 5: Doreanne (Campbell) Deweese, Robert Kenworthy. Row 6: Marlene (Sheets) Breit, Margaret (Lee) Hayden. Row 7: Donald Peterson, Ed Hayden, Art Smith. Row 8: Jack Dillman, Ron Galloway. Row 9: David Beale, Don Goyer. Row 10: James Medbourn, Joe Porter.
---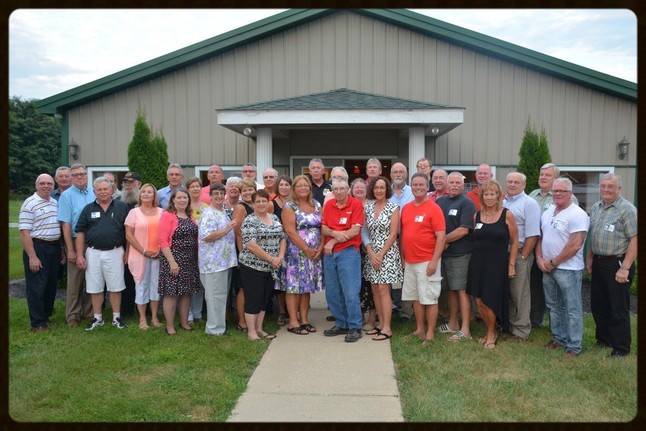 Class of 1970 40th Reunion at Sportsman Inn on August 8, 2015
Front Row: Mike Baldwin, Doug Wood, David R. Smith, Nancy (Sparks) Michael, Jo Ann (Daly) Carr, Sharon McCormick, Mary Carol (Myers) Sparks, Nancy Brown Anderson, Belinda (Dickinson) Weatherwax, Steven C. Busch, Susan Grantham, Jeff Wells, Dick Vansickle, Joretta (Cook) Gibson, Dan Yoder, Michael Blickenstaff, Gary Cleaver
Back Row: Jerry Dubes, William Yeager, Larry Johns, Tom Grimm, Jane (Strycker) Bewley, Denis Horn, Bonnie (Arion) Horn,, Dave Martin, Larry Sparks, Cindy (Mears) Finkenbinder, Chris Nipple, Jim Calvert, Charlotte (Moore) Calvert, Ed Geheb, Jack Brooks, Phil Spitler, Jeff Craig, David Thompson, Tim Stewart
---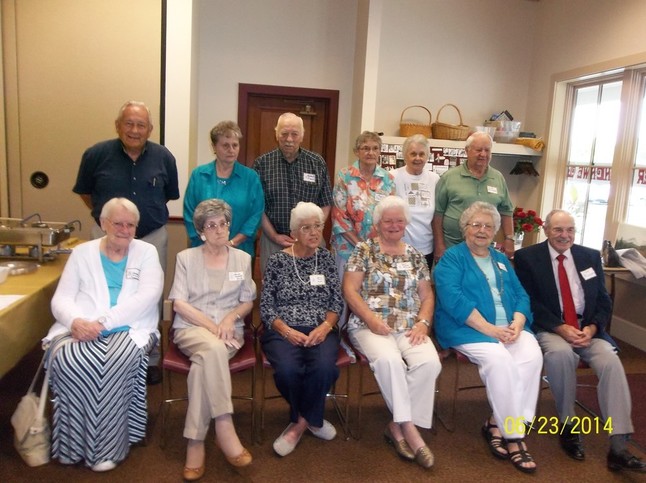 The Delphi High School Class of 1950 met for its 65th reunion Aug. 8, 2015 at the Canal Center in Delphi. Those attending were: (L-R) seated- Barbara (Weaver) Kenens, Bertie Smith, Doris (Fross) Fouts, Janet (Cassell) Ploughe, Ruth Ann (Mullendore) Brosman, Don Huff. Standing- Bob Roach, Berdena (Reagon) Teel, Richard Brown, Phyllis (Hill) Hildebrand, Helen (Freitag) Taylor, Tom Redmon
---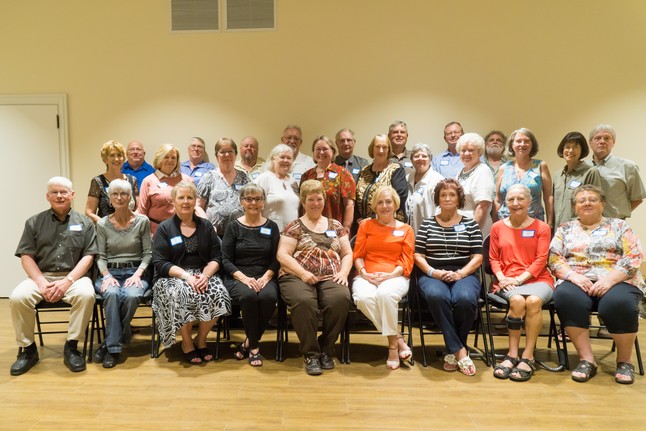 The Delphi High School Class of 1965 celebrated their 50th Class Reunion on Saturday, August 29, in the Delphi Opera House Banquet Hall. Attending were:
1st Row: Ned Brookbank Delaney, Judy Simons Scherer, Mary Davis Gear, Jane Thomson VanSickle Miller, Charletta Neff Wion, Diane Ford Ingram, Ginger Waymire McCain, Evelyn Ratcliff Drury, Sandy Kirkpatrick Cripe
2nd Row: Pam Waymire Barsh, Sandi Ward Davis, Agnes Hawn, Connie Keisling Loftman, Wanda Woods Berger, Alice Maxine Gianoulis Everhart, Judy Jones Miller, Linda Hayden Gingrich, Merit Graff Hagen (AFS student from Oslo, Norway), Donna Minneman Smith, Jeff Smith,
3rd Row: Joe Oaks, Max Rhodes, Dean Greer, Doug Watkins, Ralph Scott, Ed Everhart, Steve Hancook, Fred Bradshaw
---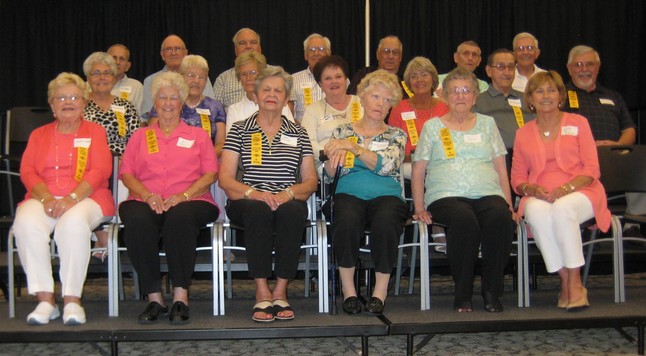 Class of '54 - 60th Reunion - August 9th, 2014
Front row: Carol Heaton Rhode, Carol Sue Burkhalter Penn, Joyce Lamb Sullivan, Nancy Clawson Greggory, Pat Phillips Abbott, Linda Rule Mahrdt.
Middle row: Mary Helen Mears Abbott, Jo Etta Henderson Flora, Deloris O'Farrell Hildebrant, Carolyn Hendrickson Penn, Miriam Parks Hedrick, Jack Hammel, Roddy Rodkey
Back row: Jim Jeffries, Ralph Hughes, Louis Dunn, Wayne Knitter, Ralph Brown, Fred Collins, Don Robbins
---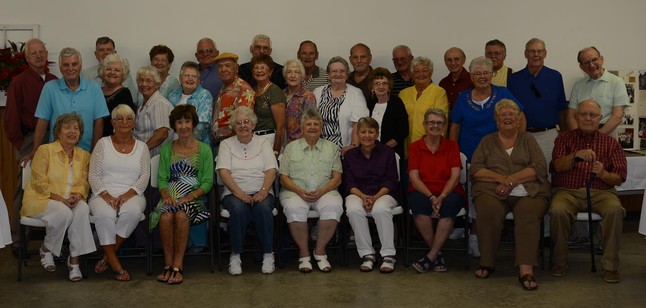 Class of '56 - August 9, 2014 - 58th Reunion
Front row: L-R
Dolorita Vianco Gaunt, Carol Underhill Ward, Lois Young Dusthimer, Patricia Crowder Measels, Annabella Ashba Larimore, Linda Snowberger Williams, Nancy Ashbas Saulmon, Carolyn Talbert Wagner, Edward Wagoner.
Second row L-R: Gary Weaver, Linda Coomey McGraw, Mickey Lyons White, Judy Orr Wilcox, Jim Gates, Barbara Schock Jones, Evelyn Brown Calvert, Esther Myers Faurote, Carolyn Myers Hinote, Betty Cole Sprague, Deanna Whiteman Pearson,
Third row L-R:
Paul LaPrad, Don Keller, Justine Hackett Cunningham, Kim Black, Guy Selleck, Charles Lybrook, Phil Girton, Ron White, Chuck Elliott, Ted Williams, Leonard Wentzel and Hubert Schmitter
---
---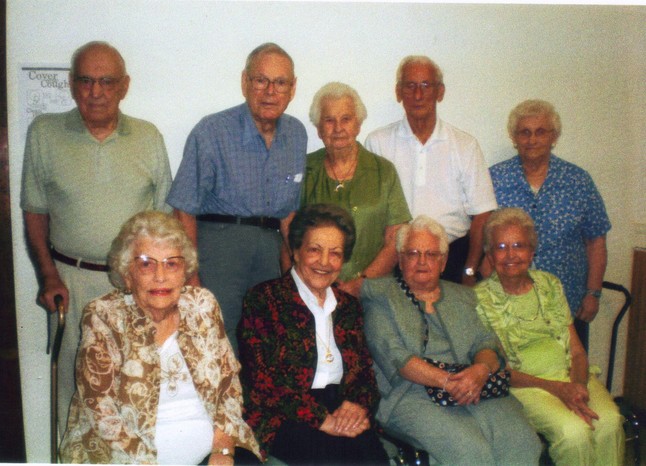 Class of '41, 69th Reunion, August 28, 2010
Seated: Rose Ann Vianco, Thelma Sterrett Hodges, Mary Roskuski Robinson and Mary Ruth Kirpatrick
Standing: Wayne Rule, Richard Hawkins, Virginia Haslet Hawkins, Bob Quinn and Evelyn Cripe.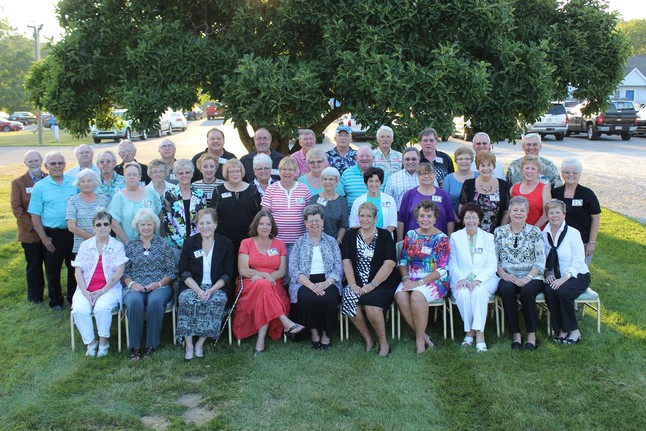 Class of 1964 50 Year Class Reunion August 9, 2014
1st Row: Dorothy Rush Yates, Shirley Best Goyer, Sally Kent Seaman, Jamie Robinson Wray, Earleen Alvarez (Teacher), Vicki Johnson Lassiter, Pam Friday Thomas, Rita Woods Snyder, Charmion Black Williams, Diane Mullin Schnabel.
2nd Row: Pat Wagner Merrell, Donna Medley Watts, Linda Murphy Wilson, Sally Bowen Schnettler, Mary Hawn Dornette, Cecilia Griffey Wilhelm, Mary Burkhalter DeFord, Sarah Sheets Berry, Diane Ward Justice, Kay Guckien Trent, Karen Ottinger Stewart.
3rd Row: Richard Benefiel, Jim Bradshaw, Carol Cripe Richter, Ginny Davis Freeman, Pam England Hafey, Patsy Harner Delaney, Dennis Hafey, Bill Freeman, Joyce Page Rider.
4th Row: Bill Janz, Jerry Trapp, Mike Wilcox, Leton Sines, Bob Brooks, Jim Justice, Larry Biggs, Fred Labor, Gerry Shepard, Bill High, Tom Popejoy, Richard Newell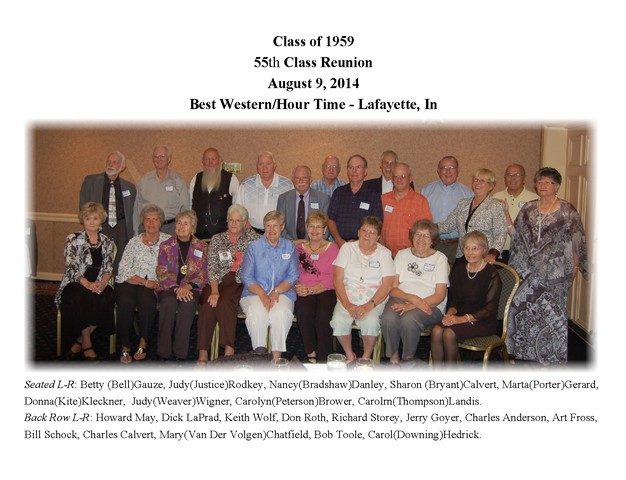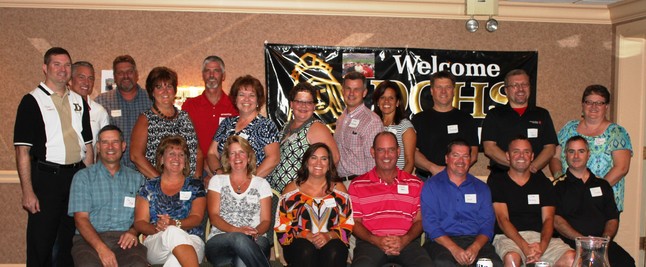 DCHS Class of 84, August 2, 2014. Front: Jon Zink, Alisa Cornell Bieghler, Brenda George Weaver, Terri Roberson Hildebrandt, Dave Hawn, Jim Seele, Dave Armstrong, Jon Snyder. Back: John Gingrich, Jim Heffley, Bryan Pancake, Kim Myers Cripe, Gail Brovont, Kathy Powlen Zink, Peggy Roberson King, David Kennedy, Suzi Alvarez Kennedy, Jeff Humbarger, Joel Robbins, Anne Biederwolf King.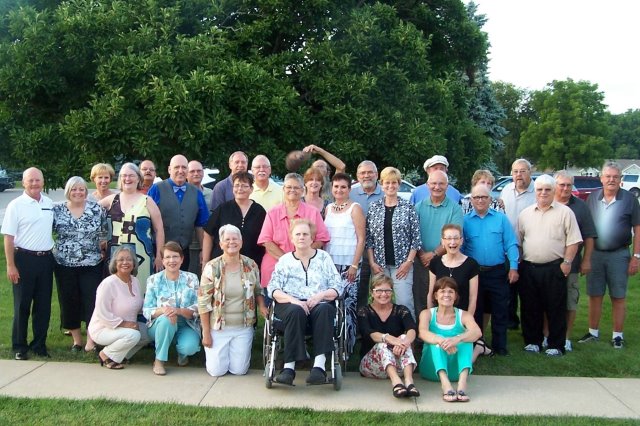 DHS Class of 69, July 25, 2014 - Alice Kolk (Trevino), Carmen Miller Slavens, Mary Ellen Scott Grubbs, Susan Nelson Lenz, Marilyn Hancook Beeler, Gaye Groninger Ford, Janet Grantham Israel. Standing: Barry Emerson, Claudette Brown (Gooch), Barb Robbins Small, Ellen Williams (Childers), Wayne Garrison, Bob Pritts, Richard Lybrook, William Weaver, Esther Baer Hufford, Dennis Oberkrom, Bonnie Risley-Westfall, Tara Hathaway Garrison, Daniel Boone (waving hat), Nora McCarthy-Creed MacLaren Brian Appleton, Diana Myers Hershberger, Darol Packard, Ben Felthoff (wearing hat), Larry Stigers, Patsy Hasser (Kelly), Jeff Schnepp, Kevin Goyer, Gary Wertz, and Rex Wilson.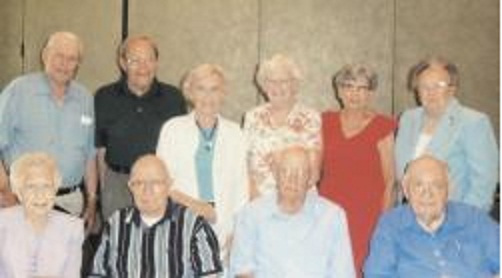 DHS Class of 1943 Ten members of the Delphi High School Class of 1943 met at MCL Cafeteria in West Lafayette in September to mark the 70th anniversary of their graduation. Classmates pictured are, l-r: Seated – Pauline Ross Humbarger, Harry "Herb" Shaffer, William Martin, Jacob "Jack" Janz. Standing – Sherry Mears, Richard Balser, Annadell Craig Lamb, Virginia Ratcliff Thompson, Frances Friday Shull-Britton, Betty Timm Greene. Class or '48 - 65th Reunion

DHS Class of '48 65th Reunion Front - Phyllis (Cole) Teel, Viginia (Disinger) McKight, Phyllis (Davis) Moore, Robert Mills, Don Rhine, Tillie Lane, Barbara (Larimore) Nelson and Robert Shively. Back - Robert Teel, Herb McKnight, Glen Calvert, Linda Calvert, Dorothy (Newell) Mills, Phyllis (Franklin) Crowder, Norma (Johnson) Burton, Bob Lane, Kenneth Miller, Kathleen (Fife) Miller and Helen (Wise) Shively.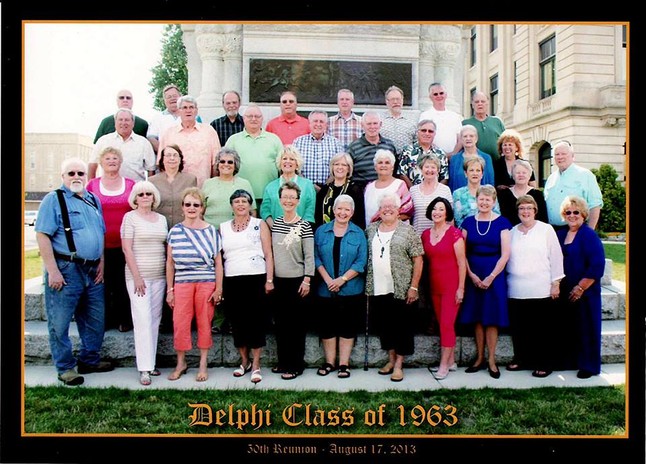 Front Row: L/R: Robert Moore, Nita Lane Stickrod, Sandy Felix Wilcox, Gloria Borton Sherfick, Janice Roach Weber, Sharon Hensley, Diana Trapp Campbell, Alexis Smith Glowe, Aleta Scott Tyner, Tina Wray Tyner, Judy Draper Mullin.
Row Two: L/R: Marlene Rishel Joseph, Karen Kahler Griffith, Nina Shaw Kibler, Susan Kent Crumbo, Lynda McCain Brooks, Sharon Fisher Sumpter, Marilyn Porter Scott, Marsha Alberts Rossetter, Carol Remaly Derringer, John Flora.
Row Three: John Trent, Dave Goyer, Vernon Cripe, Sylvester Guckien, Don Brown, Dale Humbarger, Marcia Hunt Matlock, Janice Griffey Kidder.
Row Four: Gene Snipes, Dick Bell, Tom Soper, Gene Humbarger, Mike Bush, Mike Chapman, Chuck Bradshaw, John Sumpter.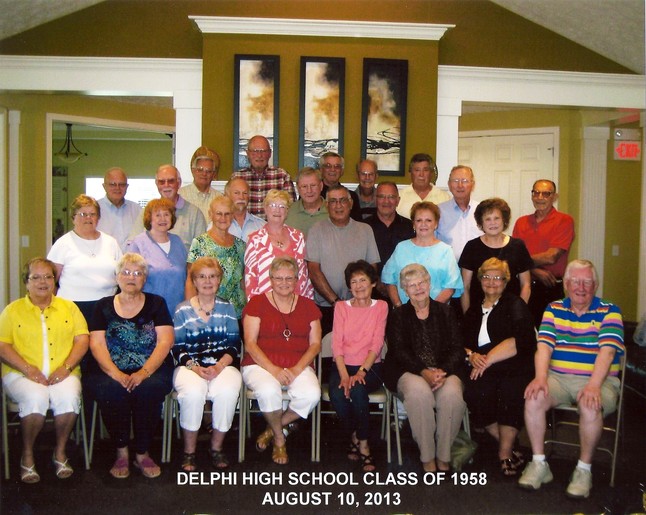 Front row L-R: Pat Toole Porter, Suzanne Spitler Hathaway, Virginia Fisher Berry, Ettola Armstrong, Sue Ann Sieber Cornell, Maxine Pullen Shanks, Pat Coghill Duff, Tom Porter.
2nd row L-R: Kay Cain Henry, Eleanor Wilkin Stewart, Cora Herr Ware, Eileen Quinn Sommers, Mike Buttice, Pat Soper Brinkman, Jan Brewer Girton.
3rd row L-R: Jerry Jenkins, Gale Cripe, Dave Garrigus, Wayne Wentzel, Dave Smith, Jim Landis, Bill Shank.
Back row L-R: Ron Rodkey, Dan McCain, Tom Merrill, Jerry Stoner, Byard Beaver.
Class of '62 -50th Reunion - September 22, 2012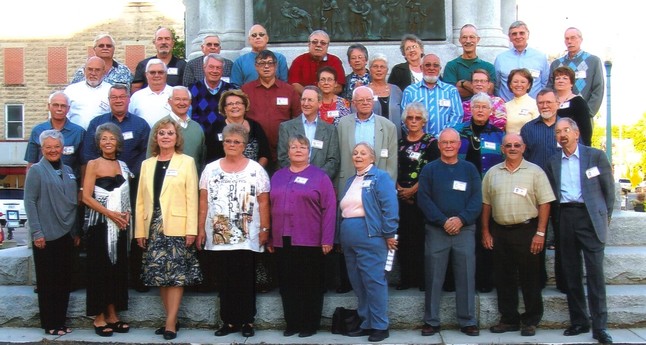 Front Row: Carolyn White Pearson, Babs Bell Hajdusiewicz, Sherry Wagoner, Linda VanSickle Kingma, Barbara Adams Betz, Shea Cedarquist Bieber, Doug Cripe, Jim Vianco, Bill Coomey Second Row: John Beale, Mick Merrell, Jim Scott, Roxy Wray Stoner, Martin Burkle, Mike Watson, Wilma Peter Chandler, Georgie Bradshaw, Ron Tyner Third Row: Wayne Bowen, John Gingrich, Dick Skiles, Dick Welch, Maxine Rodgers Chentnik, Marcia Mason Andrew, Max Burkhalter, Bonnie Maxwell, Pat Thomson Calhoun, Mary Jane Fisher Swartz Fourth Row: Vic Brown, Dick Widner, Fred Draper, Norm Campbell, Skip McMurray, Sharon Dunham Vianco, Marge Liebert Franklin, John Neff, Ron Crumbo, Dean May
Class of 1986 - 25th class reunion.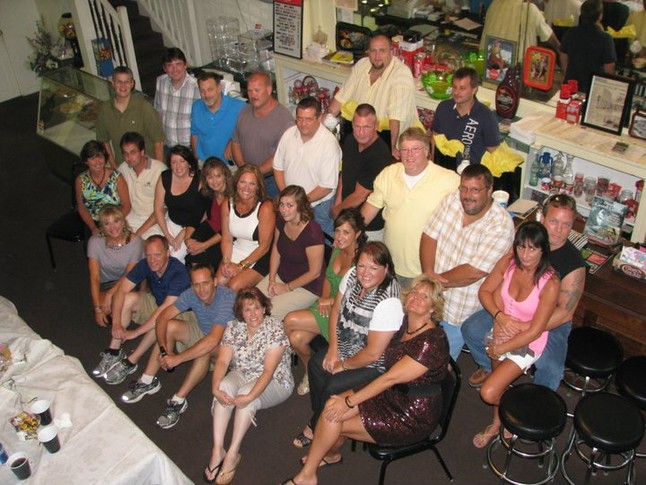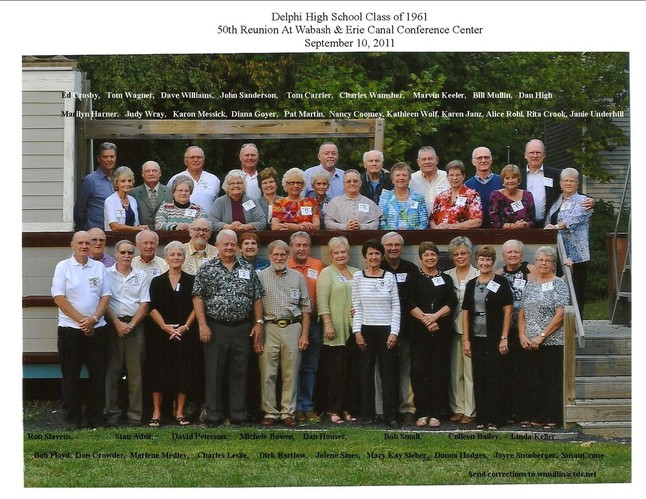 ---

Front row: Elaine Zerfas Matthews, Marsha Peterson Alspaugh, Suellen Beale Irwin, Kathy Lane Whitney, Tom Freeman, Maggie Trevino Groninger, Bonnie Willis Curtis, Susan Maxwell Freeman, Suzannah Walker, Pat Wolf Wagoner, Marie Rhine Harris. 2nd row: Melody Kenworthy Busch, Marilyn Scott Pabst, Ted Bowman, Roberta Popejoy Mattio, Judy Meek Peoples, Kathy Felthoff Wiles, Mary Ann Newell Morris, Jerry Cripe, Linda Arnold Penn. Back row: Pete Kuns, Doug Matthews, Clark Adams, Greg Shaeffer, Jeff Long, Luigi Conte, Rob Pearson, Mick White, John Benker, Joe Fountain, Terry Beach, David Houser.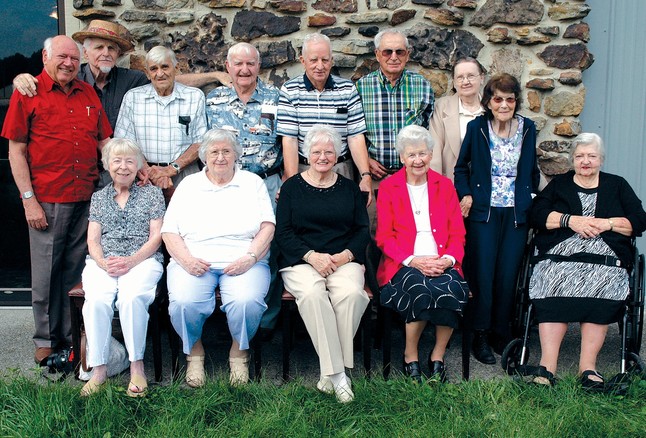 DHS Class of 1946 Delphi High School Class of 1946 celebrated its 65-year reunion Sept. 10, 2011 at the Anglers in Monticello. Those attending are pictured above, l-r: First row – Freda Oaks Wilson, June Allbaugh Clem, Maxine Lane Brewer, Mary Margaret Downing Funkhouser, Zelda O'Farrell Burke, Camilla Cunningham Robeson. Second row – Walter Wilson, Leo Rider, Bill Draper, Leroy Powell, Don Anderson, Nelson Sines, Jane Timms Vandevender. Letters were read from several members who were unable to attend. Photo provided
---
DCHS Class of 1981 - 30th Class reunion 8/6/2011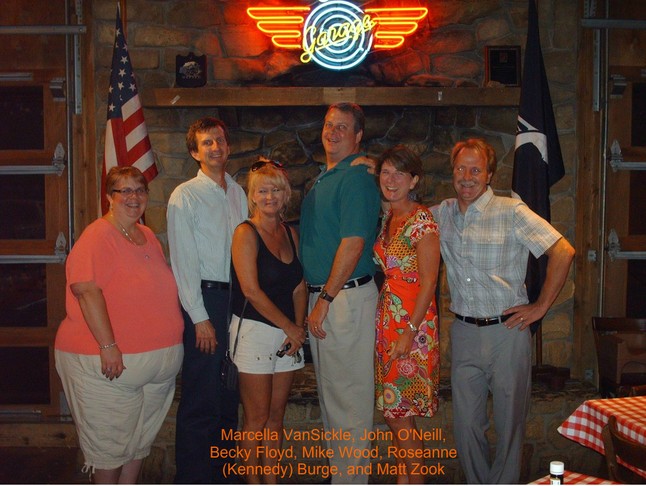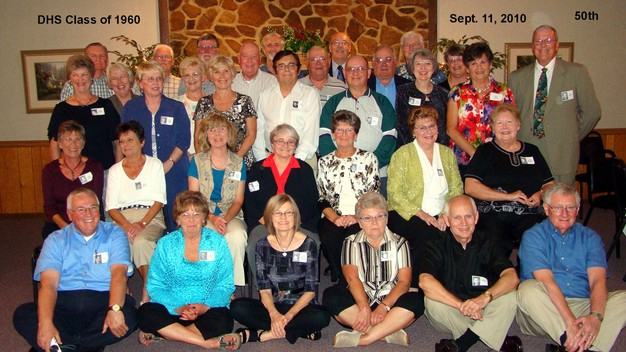 Pictured left to right:  First row - David Beale, Janice Rider Slavens, Diana Maxwell Heckert, 
Treva Wilson Rossetter, Frank Lachenmaier, Joe Porter.  
Second row - Janet Rogers Hagen, Pat Hufford Ratcliff, Marlene Sheets Briet, Betty Wagoner, 
Doris Page Johnson, Margaret Lee Hayden, Janice Mathews Burkhart.  
Third row - Judy Huffman Schock, Sandy Cook Roth, Kathy Kerlin Junkersfeld, Don Larimore, 
Bob Kenworthy, Barb Martin Rogers, Ed Hayden.  
Fourth row - Kay McKinney Ochlenschlager, Sandy Isaacs Jenkins, Don Peterson, Gene Clawson, 
John Smith Sr., Jean Ann Small Crowder.  
Fifth row - Ron Galloway, Bob Myers, Fred Simmerman, Terry Minks, Jim Medbourn, Art Smith, 
Doreanne Campbell DeWeese.

Class of 1975 - Sept. 2010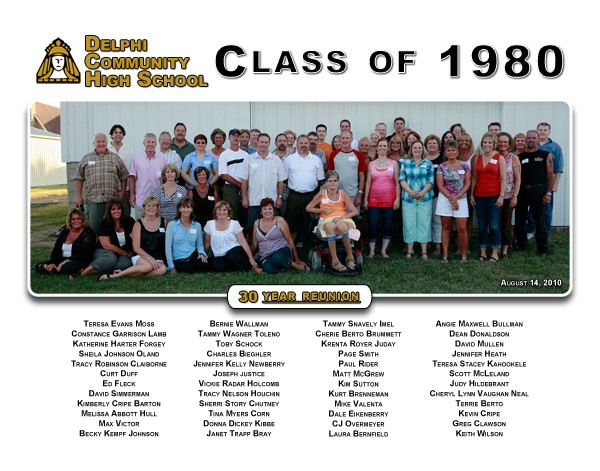 Left to Right: First Row: Bill Wilcox,Bill Penn, Gertrude Johns Doyle, Patty Fontinel Dickinson, Donna Timmons Puyear, Rosemary Merrill Den Uyl, Marvin Bowman
Second Row: Julie Smith Pyle, Roberta Dunn Robson, Shirley Fesler Foster, Carolyn Shultheis Burkle, Helen Cleaver Elrod, Carolyn Coble Rammell, Dorothy Davis Carter, Joann Larimore VanNatta, Beverly George Gwin, Bill Crook
Third Row: Tom Kempf, Ed Cunningham, Thom Loveless, Ruth Furst Loveless, Wanda Hughes Duff, Max Andrews, Jerry Clawson, Jim McGreevey, Jim Carrier, Art Lane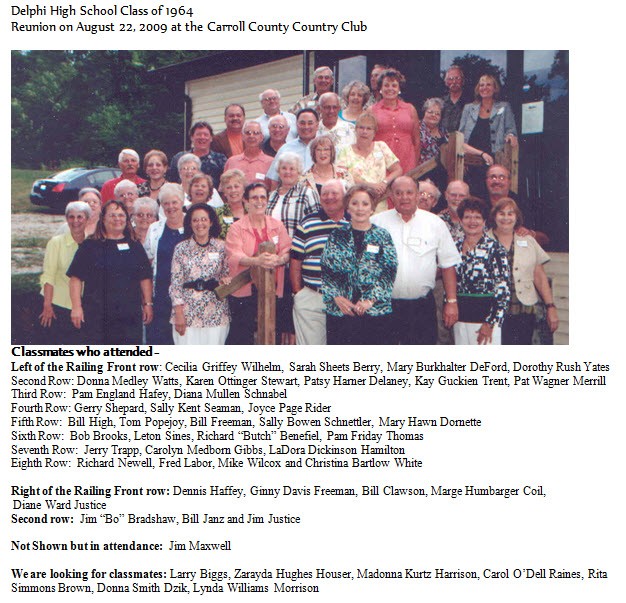 Class of '76 at Carroll County Country Club Aug 3, 1996: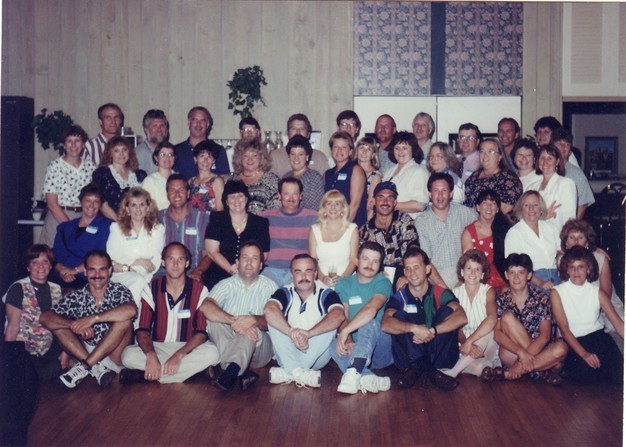 Class of 1966 reunion: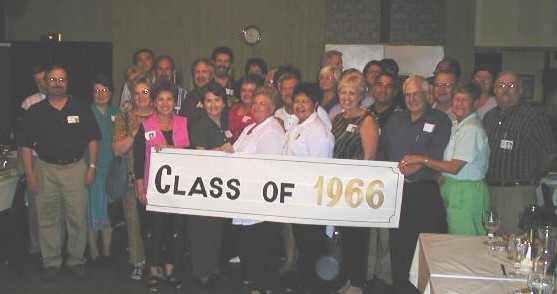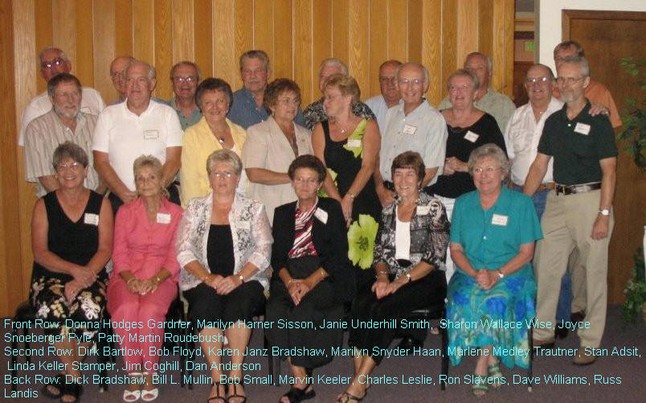 The Class of 1961 at their 45th Class reunion:
The Classes of 84 and 83 held their 25th class reunion at the Bestwestern in Lafayette on August 8, 2009.
The Class of 1983: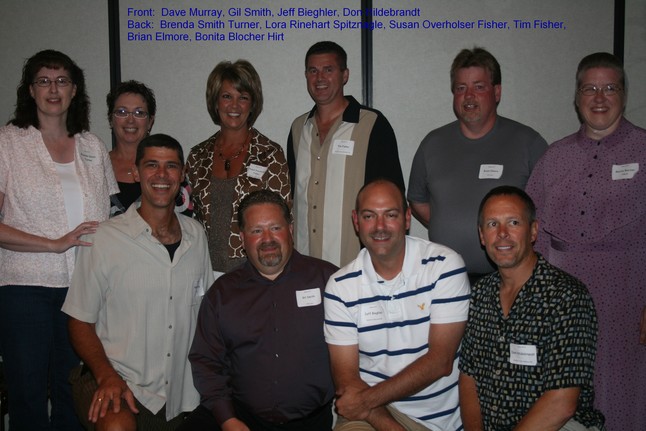 The Class of 1984: