Delphi Community High School


Classes of 1870 - 2019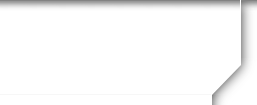 In Memory
Joe Smith - Class Of 1962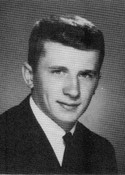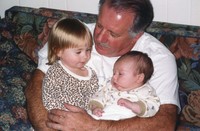 Joseph James Smith, 56 of Midland, Texas, formerly of Delphi, died unexpectedly at 11:40 P.M., Monday, January 8, 2001, in Westwood Medical Center of Midland, where he had been a patient one day.
He was born January 9, 1944, in Flora, and was a 1962 Delphi High School graduate. He earned an associate degree in industrial illustration technology from Purdue University in 1964, and his bachelor's degree in industrial economics there in 1967. He also was an editor for the Purdue Exponenet.
He studied for his master's of business administration at Loyola University of Chicago in 1969 and 1970, and at the University of San Francisco in 1972.
For more than 30 years, he was a maritime industry, environmental and emergency response consultant. His work included emergency environmental clean-up services, such as cleaning up oil spills.
On Sept. 23, 1996, he married Deborah A. Sport in Hawaii, and she survives. They had two children, a son, J. Reilly and a daughter, Reagan L. (pictured with him above).
Mr. Smith was a Coast Guard veteran, reaching the rank of captain. He served as a tankship and tank barge inspection officer for the Coast Guard Marine Inspection Office in Chicago, and received the Public Service Commendation.
He was a member of First Presbyterian Church of Midland, Midland Country Club, Remedial Contractor Institute, New Orleans Propeller Club, and an associate member of Society of Naval Archtects and Marine Engineers. He served as chairperson of Emergency Response Committee, was a co-founder of the Remedial Contractor Institute and served as its chairperson from 1988 to 1991. He was a co-founder of Greater Chicago Harbor Association in 1974, and served as president of the Chicago Propeller Club in 1979. He also participated in the Reg Neg Committee.
Surviving with his wife and children are his mother, Dorothy L. Smith of Delphi, three brothers, John Smith (wife: Lucy) of Manistee, MI, George Smith (wife: Audrey) of Coal City, IL, and Jacob Smith (wife: Joyce) of Delphi, three sisters, Nancy Johnson (husband: Dennis) of Idaho Springs, CO, Rebecca Selvidge (husband: Dr. William) of Quincy, Mass., and Maryanna Selvidge (husband: Ed) of Camden.